Rozvíjíme talenty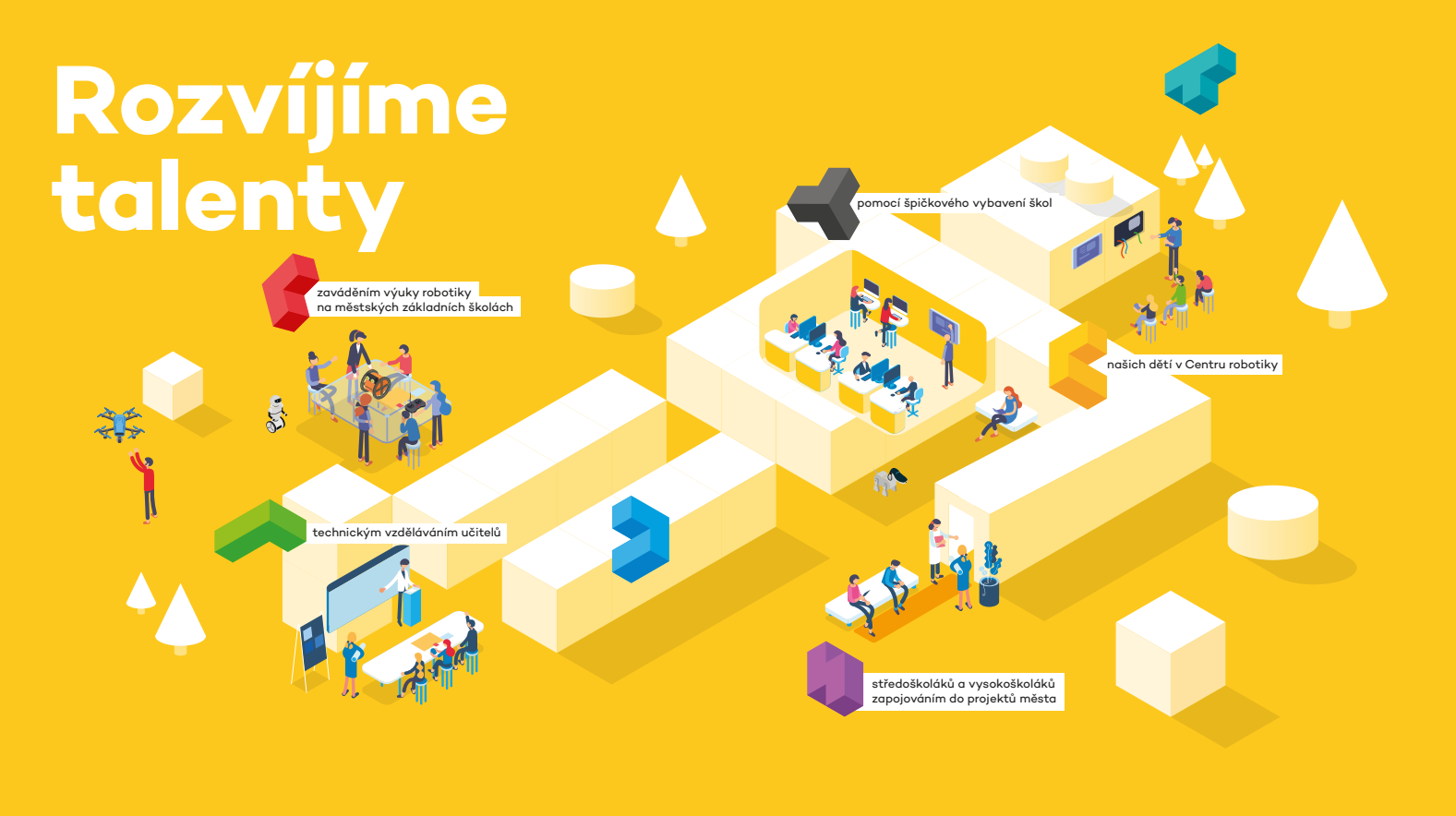 Jak vidíme budoucnost?
Děti a učitelé budou pracovat s technologiemi, které dnes ještě neznáme, způsobem, který bude posouvat inspiraci a vzdělání do nové dimenze.
Naroste procento těch, kteří budou umět realizovat své kreativní nápady skrze technologie, kterým budou dobře rozumět.
Poskytujeme ucelenou podporu technického vzdělávání
Ukazujeme lidem, že mohou začít s technikou v jakémkoli věku a že je to zábava. Dokážeme provést talenty celým cyklem od inspirativních her ve třídě, přes zábavné kroužky, studium střední či vysoké školy, po účast na inovativních projektech, až po podporu založení startupu. Pracujeme s nejnovějšími technologiemi, které často nenajdete ani v komerčních firmách. Proto máme výbornou reputaci i na trhu práce. Žádné jiné české město neposkytuje tak propracovanou podporu technického vzdělávání včetně spolupráce škol a firem.

Rozvíjíme technické myšlení ve školách
Dáváme učitelům možnost využívat moderní technologie revolučním způsobem ve prospěch rozvoje dětí. Poskytujeme školám nejmodernější vybavení, díky velkoobjemovým nákupům dosáhneme na nízké ceny
a můžeme si dovolit být technologicky na špici. Skvělé zázemí nám umožňuje rozvíjet potenciál, vytvářet komunitu, podchytit technický talent od brzkého věku a učit děti nejen nápady vymýšlet, ale také uvést do praxe. Oslovujeme žáky základních škol, studenty středních a vysokých škol i učitele, u kterých je rozvoj klíčový pro další předávání dovedností. Široký záběr a množství kroužků v Centru robotiky generuje víc talentů a vyškolených techniků.

Budujeme komunitu
Kolem SIT vzniká komunita, kde se potkávají profesionální mentoři, naši zaměstnanci, externisté ze škol a technických firem, nadšenci z neziskovek, kteří předávají zkušenosti z praxe dětem a studentům se zájmem o techniku. Vytvořili jsme platformu, která poskytuje prostor, vybavení i témata pro technické vzdělávání. Platformu, která produkuje více osobností se znalostmi pro budoucnost. Jako příklad dobré praxe nás uvádí publikace Open Book of Education, vydaná sdružením podporujícím zavádění technologií do vzdělávání a využívání nových výukových metod European Schoolnet.

Zachytáváme talenty
Pomáháme v Plzni udržet mladé lidi se zájmem o techniku a potenciál pro práci s technologiemi. Klíčová je návaznost vzdělávání od školního věku a možnost růstu, kdy z kroužků pro děti, projektů pro studenty může postupně vyrůst celý startupový byznys.

Snažíme se poskytovat zážitkové učení. Naším cílem je, aby nadaní lidé vyvíjeli opravdu užitečné věci (např. mobilní aplikace), nejen proto, že je to baví, ale i pro to, že s nimi uspějí v globálním měřítku.

Propojujeme vzdělávací instituce a firmy
Dosáhli jsme větší vzájemné informovanosti a synergie v procesu technického vzdělávání. Vize a vůle ke změně, to je podstata přístupu k chytrému vzdělávání. To je pak základem ekonomicky úspěšné budoucnosti města. Pořádáme veletrh studijních a pracovních příležitostí Posviť si na budoucnost. Studentům nabízíme projekty, ve kterých řeší reálné potřeby města nebo firem a úspěšná řešení mají šanci dojít do funkčních produktů.
Při hře Naše firmy (kde jsme spolutvůrci) si děti na základních školách mohou vyzkoušet založení vlastního podnikání, což je motivuje pro budoucí rozvoj i vhodné studium.

Posilujeme zájem o bezpilotní letectví
Ve spolupráci se ZČU jsme vytvořili certifikátový program "Technologie pro bezpilotní létání". Cílem je připravit budoucí odborníky pro perspektivní obor a průmysl kolem dronů. Spolu s univerzitou vznikl také projekt Pilsen Cube, jehož posláním je nasměrovat mladé lidi k vesmírnému programu. Studenti sestrojí funkční pikosatelit a navrhnou experimenty, které se na oběžné dráze zrealizují.