The City Is Building a Technology Centre Tech Tower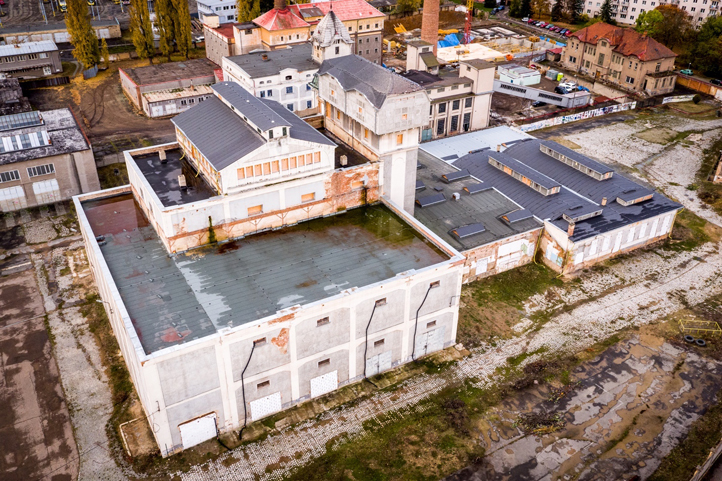 The city of Pilsen is building a TechTower science and technology park on the premises of the former Světovar brewery in Slovany, which will provide comprehensive services and facilities for selected innovative companies and support start-up companies and young entrepreneurs. It will be created by reconstructing the former lager cellars and the building of the brewery administration's villa. Currently, the builders in the villa are finishing demolition works and constructing a new sewer system on the underground floor.  On the first floor above ground level of the eight-storey building of the former lager cellars, concrete is being laid as a bedding for the floors, reinforced concrete structures are being sandblasted and steel structures of the new ceilings are being installed.

The main building, adapted from lager cellars, will house office space, prototype workshops, laboratories, a conference hall, and meeting rooms, including dining areas with kitchen facilities. These will serve both new, rapidly evolving companies, start-ups, and existing companies operating in innovative fields. A water test tank for special underwater drones is planned too.

The former villa will provide facilities for a children's group of local employees with a capacity of 24 children, including an outdoor garden. Interconnected roads and paved areas will be constructed all over the premises and greenery will be planted.

The construction started last December and will be finished by the end of 2021. The value of the contract is CZK 640 million, and the city has appropriated 360 million crowns for it this year. For the reconstruction, through the Ministry of Industry and Trade of the Czech Republic and the Operational Programme Enterprise and Innovation for Competitiveness, the city received an EU Structural Funds subsidy of CZK 181 million.